The $30 million redevelopment of the Superyacht Marina at Rozelle, Sydney involved the rearrangement of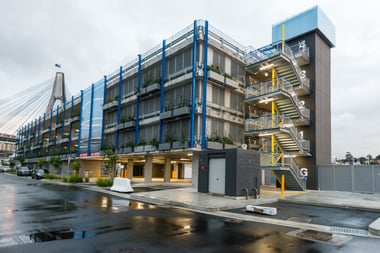 marina pontoons, an increase in the size of the car park and the use of outdoor areas for seating associated with the marine uses and supporting restaurants and cafes.
Stage 3 of the project which involved a four-storey car park consisting of 217 car spaces and totalling over 7394m2 with associated lift and feature green wall.
Why was Moddex product selected?
We were able to work with the client to ensure a compliant handrail solution for the multi-level carparks' external stairwells. The top rail was powder coated in blue on this particular project to match the other design elements of the carpark exterior for an aesthetically pleasing look.
We were also able to offer custom fabrication solutions alongside our proprietary systems to deliver a complete package.
Moddex was able to bring value to the client by supplying and installing the package through our Project Management service delivery solution.