Project Background
A new ministry facility was desperately needed by the Kenmore Baptist Church having grown to its current size of 3,000 people.
ADCO Constructions were appointed for to build the new facility which includes an undercover entry to the main facility, café, auditorium and children's area.
Moddex supplied handrail and balustrade to the entry structure, main building, theatre catwalk and ramps.
Moddex systems were specified on the project by the architect, and we have a strong relationship with ADCO after working together on several projects.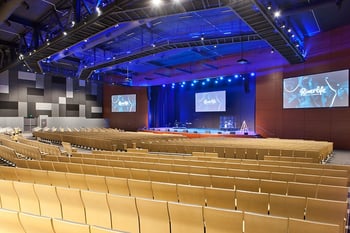 Products/configurations used on project
Disability Handrail Assistrail AR30, AR40, AR45 & AR150
Commercial Balustrade Conectabal CB20, CB35, CB40 & CB45
Industrial Handrail Tuffrail TR25
Stair Nosing Tredmaxx GLA312
Safety Bollard Tuffstop 125NB (Ø139mm) Top Mount Bollard